When I first was coming up with an artist name, the only one that really stuck through was "Alicia Darling". It was something my great aunt used to say sometimes, and I always imagined the noir films and classic Hollywood when they still used transatlantic accents.
I'm a 30-year-old scientist and artist from Massachusetts, USA. I work in a lab full time and an artist after hours. I went to college for Environmental Health, and I ended up staying on to get my Masters in Occupational and Environmental Hygiene. It's not something I ever planned for myself; it fell into my lap. I feel like a good number of things happened in my life, because I wanted to say yes to opportunities. It's taken some time, but I've learned more about personal boundaries for myself. Organization is an extremely important part of my life that I need. I mean it; I need it.
Bullet journaling has become my therapy, my personal assistant, and my create outlet. My drawing skills have definitely improved since I started in November 2017, and I'm working on my calligraphy at the moment. I got into bullet journaling after a friend introduced me to it as a way to help give me a little more order and control in my life. At first, I was wicked intimidated. I felt like I couldn't commit so much time and effort to a journal (even though I had stacks of filled art/writing journals), and I was going to grow bored with it. I didn't.
I consider myself an artsy bujoist (bullet journalist), and I'm fascinated by how many ways bullet journaling can be applied to our everyday lives no matter our background.
My layouts are always different and based on mood. Sometimes I have a lot of structure to them (i.e. boxes or outlines), and sometimes I just use color to mark off areas like the photo above. It really depends on my needs each week; that is why I usually don't make a spread until I need it.
I have been using my instagram and bullet journaling in general to make new friends. I just started pen-paling, and we share a lot of our favorite bullet journal materials with each other. It's a great (and cheap way) to feel like you are traveling around the world without moving from your house. Plus, who doesn't love getting snail mail?
A lot of my artistic inspiration comes from the things I see around me and have on hand. Bullet journaling can get expensive, but it doesn't have to be that way. That's why I like sharing things with others and get creative with the materials I already have. I mostly use Tombow dual brush pens (which can be expensive), watercolor, and calligraphy pens (whatever is on sale). I sometimes use washi tape, but I mostly save those for the days where I don't feel like going crazy with drawing. Stickers are my best friend for days where I have no motivation.
For the next couple of posts, I will be highlighting some bullet journalists and planners that I have met through instagram. We will be having a giveaway on August 28th, and we will each be giving away an item of our choice. I interviewed each of the collaborators, and they will be telling you why they picked their item for the giveaway. I can't wait for you to learn more about these amazing bujoists.
My giveaway items are two stencils from Jayden's Apple. I use stencils sometimes to help make some of my cover pages or monthly/weekly spreads. I used the stencil below to create my July monthly spread, and I had a lot of fun doodling out my events instead of just writing them in.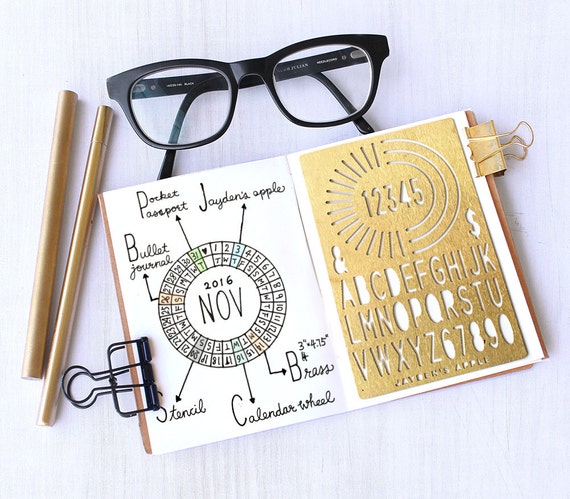 I wanted to give something away that could help bujoist come up with new ways to set up their journal instead of just playing with boxes. There is nothing wrong with using stencils, and I highly encourage it. Why always do something free-hand when you can have a little guidance to get that perfect circle you want. I also use this stencil for my habit trackers or for my mood tracker. I love that it comes with an alphabet and numbers. You could probably use this for financial tracking too.
What would you give away as your item? Let me know if you are interested in collaborating on future giveaways, and stay tuned to learn more about our Giveaway Bujoists!